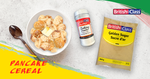 Serves: 4 |  Preparation time: 15 minutes | Cooking time: 5 minutes
Ingredients




Directions


1. 

Mix flour, cereal, British Class Golden Sugar, British Class Baking Powder, salt and Cool Runnings Ground Cinnamon; set aside.



2.

Beat egg, milk and oil in medium bowl with wire whisk until well blended. Add flour mixture; beat until well blended. Let stand 5 min.



3.

Ladle batter onto hot non-stick griddle or skillet, using 1/4 cup batter for each pancake. Cook until bubbles form on tops, then turn over to brown other sides.



4.

Serve with maple syrup, fruits, sweetener or milk and enjoy your breakfast.



5. Enjoy.