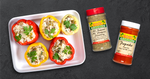 Serves: 6 | Preparation time: 15 minutes | Cooking time: 50 minutes
Ingredients




Directions


1. 

Preheat oven to 350°F.



2.

Cut the tops off the peppers, remove and discard seeds and membranes. Filling would be added through the top of the peppers.



3.

Bring a large pot of water to a boil and cook peppers about 5 minutes. Remove the peppers and drain them well.



4.

In a large skillet put and stir the following ingredients: lean ground beef, minced pork meat, chopped onions; over medium-high heat until no pink remains. Add Cool Running All-Natural All-Purpose Seasoning, Cool Runnings Paprika and tomato sauce. Drain any fat.



5.

Cook rice and mix it with previously prepared sauce (from step number 4).



6.

Fill each pepper with the new sauce which is mixed with rice.



7.

Place filled peppers in a pan, add two glasses of water, cover with foil and bake for 35 minutes.  Remove foil.



8.

Top with cheddar and bake an additional 10 minutes or until cheese is melted and peppers are tender.



9. Enjoy.