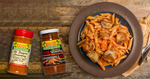 Servings: 4 servings | Prep time: 20 minutes | Cooking time: 25 minutes
Ingredients




300g penne pasta
500g - 1kg jumbo shrimp
1 tsp. salt
1 tsp. black pepper
1 tbsp. Cool Runnings jerk seasoning
2 tbsp. butter
1 tsp. olive oil
1/2 red, green, orange bell pepper
2 spring onions
3 sprigs thyme
3 garlic cloves minced
2 cups double cream
1 tsp. Cool Runnings jerk seasoning
1-2 cups grated cheese
parsley for garnish



Directions


1. Take a pot and add 4 cups pf water and 1 tsp. salt. Allow to boil and cook the pasta for 11 minutes or according to package instructions. Drain the pasta when cooked and set aside.

2. In a clean bowl with lemon and cool water, devein and rinse the shrimp. Season with salt, black pepper, all-purpose seasoning, green seasoning and jerk seasoning. Let marinate for 15 minutes.

3. Add your butter to a clean pot and cook shrimp for 4 minutes on medium heat, turning halfway. Remove it from the pot and set it to one side.

4. Add 1 tsp. oil to the pot and add bell peppers, thyme, spring onions and garlic and sauté for 3 minutes on low heat. 

5. Add the double cream into the pot and season the pot lightly with 1 tsp. all-purpose seasoning and 1 tsp. jerk seasoning and stir. Add in your cheese after the cooked pasta and stir well. Taste and adjust salt levels.

6. Add your shrimp to the pasta and mix well. Garnish with parsley and serve while still warm.