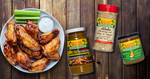 Servings: 4 servings | Prep time: 10 minutes | Cooking time: 45 minutes
Ingredients




Directions


1. Pat dry chicken wings. In a bowl toss chicken wings well with 1 tbsp. baking powder, and 1 tbsp. Adobo with Garlic & Pepper.

2. Add 1/3 cup all purpose flour and toss the chicken wings again until well coated. 

3. Spray baking pan with oil. Place seasoned chicken wings on oiled pan and bake at 300 F for 35 minutes.

4. Increase oven to 400 F and bake wings for 10 minutes or until crispy and done.

5. In a bowl mix together 2 tbsp. Jerk Paste and 2 tbsp. Pineapple Jam to make the fabulous tropical Jerk dipping sauce for the wings and enjoy.

6. 

Bake the wings for another 5-10 minutes at 400 F until nicely browned.