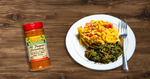 Servings: 4 servings | Prep time: 30 minutes | Cooking time: 10 minutes
Ingredients  


 

1

 

bunch of callaloo (1-2 lbs)


1 large tomato chopped

1 medium sized onion chopped

½ red bell pepper optional, chopped

2 scallion sliced

4 garlic cloves minced

4 sprigs fresh thyme

1 scotch bonnet chopped and de-seeded

2 tablespoon olive oil (5g)
2-3 tablespoon hot water (30ml)
1 tablespoon dairy free butter (15g)
1 teaspoon of Cool Runnings all purpose seasoning
black pepper and pink salt to taste


Directions


1. Heat up the olive oil in a large frying pan over medium heat. Add the onions, scallion, garlic, and red pepper and sauté until they are soft and translucent. 

2. Add the tomato, thyme, and scotch bonnet pepper and continue to cook for another 2-3 minutes. 

3. Next, you can add the callaloo and make sure to carefully fold it in.

4. Steam the callaloo by pouring in hot water. Reduce the heat to a low and cover the pan with a lid and let steam for 5-7 minutes, until it is tender. 

5. Remove the lid, add the butter then season with all purpose seasoning and some black pepper and pink salt to taste.