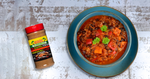 Servings: 6-8 servings | Prep time: 30 minutes | Cooking time: 40 minutes
Ingredients  


 

2 lbs sweet potatoes, peeled and cut into chunks
2 (14 1/2 ounce) cans black beans, rinsed and drained
1 (14 1/2 ounce) can diced tomatoes, undrained
1 (15 ounce) jar roasted red peppers, cut into thick slices
2 onions, peeled (1 diced, 1 roughly chopped)
2 ounces fresh ginger, peeled and roughly chopped
2 sprigs fresh thyme
1 bunch fresh cilantro, leaves and stalks separated (coriander)
3 cups vegetable broth
3 tablespoons Cool Runnings jerk seasoning spice
4 tablespoons red wine vinegar
3 tablespoons light brown sugar
2 tablespoons oil
salt and pepper, to taste

 
Directions


1. Heat oil in a dutch oven or casserole over medium heat. Add the diced onion and cook until it is softened. 

2. Meanwhile, add the rougly chopped onions, ginger, cilantro and jerk seasoing in a food processor and process until finely chopped. Once done, add this mixture to the softened onion and fry until fragrant. 

3. Stir in the thyme, tomatoes, vinegar, sugar and broth and bring to a simmer. Let simmer for 10 minutes, then drop in the sweet potatoes and let simmer for another 10 minutes.

4. Stir in the beans, peppers, salt, and pepper and let simmer for another 5 minutes, the potatoes should be almost tender. 

5. Top off with rougly chopped off coriander leaves, and serve hot.