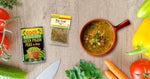 Servings: 8 servings | Prep time: 15 minutes | Cooking time: 40 minutes
Ingredients  


 

1 1/2 cups chopped yellow onion (1 medium)
2 cups peeled and chopped carrots (about 5)
1 1/4 cups chopped celery (about 3)
4 cloves garlic (minced)
2 Tbsp olive oil
4 (14.5 oz) cans low-sodium chicken broth or vegetable broth (can substitute with Cool Runnings vegetable bouillon)
3 cups of peeled and diced potatoes (1/2-inch thickness)
2 (14.5 oz) cans diced tomatoes (undrained)
1 1/2 cups chopped frozen or fresh green beans
1 1/4 cups frozen or fresh corn
1 can of Cool Runnings green pigeon peas
1/3 cup chopped fresh parsley
1/2 tsp of Cool Runnings thyme leaves
salt and pepper to taste
Directions


1. Take a large pot and heat up olive oil over medium-high heat. Add the onions, carrots, and celery and sauté them for about 4 minutes and add garlic. Saute another 30 seconds with the garlic.

2. Add in the broth, tomatoes, potatoes, parsley, bay leaves, thyme and season with some and pepper to taste. 

3. Bring the pot to a boil and add the green beans. 

4. Reduce the heat to a medium-low, cover the pot and let simmer for about 20-30 minutes, until the potatoes are tender. 

5. Add corn and peas and cook another 5 minutes. Serve hot!