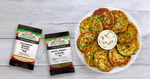 Servings: 12 servings | Prep time: 20 minutes | Cooking time: 15 minutes
Ingredients




Directions


1. Preheat your air fryer to 400°. Roughly grate the zucchini, potato and onion. Set aside the grated vegetables on a clean tea towel or cheesecloth, bring up the corners and squeeze out any liquid. Transfer to a large bowl; stir in the egg, flour, parmesan, garlic, pepper & herbs, onion powder, parsley, salt and pepper. Shape the mixture into 1/4-cup patties.

2. In batches, place patties in a single layer onto greased tray in air-fryer basket. Cook until lightly browned, 15-20 minutes. Serve with sauce if desired.

3. Oven method: Preheat oven to

400°

. Place fritters on a parchment-lined baking sheet! Bake until golden brown for 15 - 20 minutes.