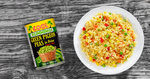 Servings: 4 servings | Prep time: 10 minutes | Cooking time: 25 minutes
Ingredients




3 Tablespoons or more cooking oil
½ medium onion chopped
2 green onions
½ bell pepper optional
1- teaspoon fresh thyme
1- teaspoon garlic
1 teaspoon of

Cool Runnings paprika

1 whole scotch bonnet pepper
1- cup basmati rice
1- teaspoon creole salt
1- cup fresh corn
1- cup of Cool Runnings pigeon peas
1- cup of Cool Runnings coconut milk
2 cups water
1 or more teaspoon bouillon powder optional
Salt and pepper to taste



Directions


1. Wash rice 2 -3 times and drain water. 

2. Heat up a saucepan with some oil. Add the onions, green onions, bell pepper, garlic, paprika, thyme, scotch bonnet pepper and sauté all together for about 2 minutes. 

3. Stir in the rice into the pan and add the pigeons peas and corn. Sauté for about a minute.  

3. Pour in the coconut milk, creole spice, and about 2 cups of water and bring the mixture to a boil and reduce the heat. Cover pan with a lid and let simmer until rice is cooked (about 18 minutes) Stir occasionally to prevent burns, you can add more water if needed.

4. Adjust taste with salt and pepper and serve hot!