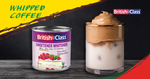 Serves: 1 or 2 | Preparation time: 5 minutes | Cooking time: 15 minutes
Ingredients




Directions


1.

Prepare the boiling water, and put aside with the instant coffee and sugar. 

Mix the boiling water, instant coffee and sugar in a bowl.



2.

Use a hand mixer or stand mixer and whip on the higher speed. 

Whip the mixture for 2 minutes, making sure to get the sides.



3.

Taste the mixture (beware of the strong taste) and add more sugar if desired. Remember that it will be added to your milk and diluting the flavour.



4.

Pour a tall glass of milk of your choice and add the coffee on top.



5.

Drizzle some British Class Sweetener Whitener on top and now using a spoon or straw, stir vigorously to swirl the coffee into your milk.



6. Enjoy.