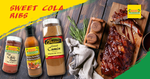 Serves: 4 | Preparation time: 15 minutes | Cooking time: 2 hr 55 minutes
Ingredients




Sweet Cola Barbecue Sauce





Dry Rub





Ribs




Directions




Sweet Cola Barbecue Sauce

1. In a medium saucepan, over medium heat, add oil. Once heated, add the onion and garlic and sauté until tender. Add all the remaining sauce ingredients and bring to a boil. Reduce heat to a simmer and cook uncovered, stirring frequently, for 1 hour 15 minutes.



Dry Rub

1. Whisk all dry ingredients together in a small bowl.



Ribs

1. Rinse and dry ribs. Place on a clean cutting board, pull off the membrane and trim the ribs of excess fat. Liberally season both sides of the ribs with rub. Wrap ribs with plastic wrap and refrigerate 4 to 12 hours so flavors can permeate.

2. Preheat grill to 250 degrees F. using hickory and charcoal. Set up your grill for indirect heat.

3. Place ribs, meatier side down, on the grill away from the coals. Close grill cover. Cook the pork ribs for 1 hour 15 minutes; flipping several times for even cook. Coat ribs with sweet cola barbecue sauce and cook for another 20 minutes.

4.Serve and enjoy.