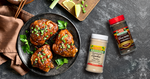 Serves: 6 |  Preparation time: 10 minutes |  Cooking time: 20 minutes
Ingredients




Directions


1.

Season chicken with salt, pepper and garlic powder; set aside.



2.

Heat a pan or skillet over medium high heat; sear chicken thigh fillets or breast fillets on both sides until golden and cooked through.



3.

Reduce heat after searing on both sides, cover skillet with a lid and continue cooking until the chicken is cooked through, while turning every 5 minutes until done.



4.

Drain most of the excess oil from the pan, leaving about 2 tablespoons of pan juiced for added flavour.



5. When chicken is done and cooked through, add the garlic between the chicken and fry until fragrant (about 30 seconds). Add the honey, water, vinegar and soy sauce. Increase heat to medium-high and continue to cook until the sauce reduces down and thicken slightly (about 3-4 minutes).

6. Garnish with parsley and serve over vegetables, rice, pasta or with a salad.

7. Enjoy.