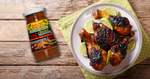 Ingredients




Directions


1.

If necessary, clean and wash the chicken to remove any feathers or unwanted fat. Keep the skin on to keep the chicken tender and juicy during baking.



2. Mix the melted British Class Coconut Oil, Cool Runnings Hot Jerk Seasoning, Cool Runnings Jam, and Soy sauce in a bowl. Spread the sauce mixture all over the chicken and marinate in a zip lock bag, plastic container, or baking pan overnight in the refrigerator.

3. When ready to bake, preheat the oven to 350 ̊ F. Place the chicken into a baking pan that will be able to contain the chicken, sauce and any juices that will render during baking. Bake on the middle rack of the oven for 40 minutes.

4. Baste the chicken with the sauce and juices from the pan. Move the chicken pan to a higher rack and bake for another 20-30 minutes at 400 ̊ F, basting every 10 minutes until the skin bubbles, the sauce caramelizes and darkens on top of the chicken.

5. If you prefer a dryer chicken, spoon or pour out the sauce and juices from the pan into a small bowl before continuing to bake. Keep juices for sauce if desired.

6. Check the chicken to see if fully cooked; cooking times may vary for different chicken sizes. Remove chicken from the oven and let stand for 5 minutes before serving.

7. With extra sauce saved from step 4, boil it to slightly thicken and serve it as a sauce on the side. Drizzle sauce over the chicken when ready to eat. Enjoy!