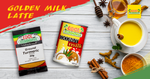 Ingredients




Directions


1.

Add Cool Runnings Coconut Milk of choice to a small saucepan over medium-high heat.



2.

When milk is almost boiling, add Cool Runnings Ground Turmeric, ginger powder, cinnamon, coconut oil, vanilla, and black pepper to pot and then mix well with a whisk.



3.

Take milk off heat and pour into a coffee or tea mug, top with a sprinkle of Cool Runnings Cinnamon, and enjoy.



4. Enjoy.