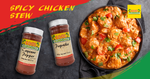 Serves: 4 |  Preparation time: 15 minutes |  Cooking time: 40 minutes
Ingredients




Chicken breasts

Chicken thighs (skinless and boneless, cut into smaller pieces)

3 large tomatoes

1 small onion chopped

6 garlic cloves (very finely minced)

2 tablespoon of

 

Cool Runnings Cayenne Pepper

2 tablespoons of

 

Cool Runnings Paprika

2 tablespoons of olive oil

2 teaspoons of salt (adjust to taste)

1/2 cup chicken broth (homemade)



Directions


1.

First, prepare tomatoes. Cut them in half, then use a spoon to scoop out and entirely remove all of the seeds and juicy bits from the center of each tomato. Next cut each half into small, even-sized pieces and set them aside until ready to use.



2.

In a large pan heat the olive oil. Once it is hot, carefully add the chicken. Allow each piece of meat to brown on one side then flip and brown on the other side. Remove the browned chicken pieces from the pan and set aside.



3.

Continue to cook the dish in the same pan that you browned the chicken - do not discard any of the leftover oil and chicken fat. Turn the heat to medium heat and then add the onion, sprinkle a tiny pinch of salt over the onions and cook until they are soft and translucent.



4.

Add the minced garlic and sauté for 2 minutes. Now add the chopped tomato and give the pan ingredients a good stir, allowing to cook for about 5 minutes or just until the tomato bits begin to soften.



5. 

Add the chicken back to the pan, sprinkle in the 

Cool Runnings Cayenne pepper 

and the 

Cool Runnings Paprika

, a large pinch of fine sea salt, and pour in the chicken broth. Give the ingredients a good stir and then spread the chicken pieces in an even layer in the pan.



6.

Cover the pan, turn the heat to medium-low and simmer for 25 minutes or until the chicken is tender and each piece is cooked through.



7.

After 25 minutes or so, uncover the pan and simmer for another 10 minutes or until the sauce is reduced by half -- but not dry, as you want it to spoon over the chicken when serving. If too much of the liquid has evaporated you may add a little bit chicken stock to the pan.



8.

Taste the sauce and if needed add more the 

Cool Runnings Cayenne Pepper

 or the 

Cool Runnings Paprika

 and salt as desired. Serve with rice or some crunchy bread.



9. Enjoy.