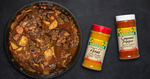 Serves: 4 |  Preparation time: 30 minutes |  Cooking time: 1h and 10 minutes
Ingredients




1 pound bone-in goat meat, cut into large chunks

1/4 cup of vinegar

1/4 cup of soy sauce

4 cloves garlic, crushed

1 tablespoon of vegetable oil

1 onion, chopped

1 red bell pepper (cut)

1 cup of tomato sauce

2 cups of beef stock

1 potato, peeled and cut into large chunks

2 carrots, peeled and cut into large chunks

1/2 cup of green peas

1/2 teaspoon of salt

1/4 teaspoon of 

Cool Runnings black pepper whole

1 teaspoon of 

Cool Runnings cayenne pepper

1 teaspoon of 

Cool Runnings goat curry powder



Directions


1. 

Mix goat meat with vinegar, soy sauce, and garlic in a large bowl; cover and refrigerate about 6 to 8 hours  For best flavor, marinate at least 6 hours. Remove meat from marinade and pat dry with paper towels; reserve marinade and garlic cloves.



2.

Heat vegetable oil in a large pot over medium-high heat and brown the goat meat, working in batches if necessary, 10 to 15 minutes. Set goat meat aside. Cook and stir onion, red bell pepper, and garlic cloves from the marinade over medium heat until onion is translucent, about 5 minutes; pour in tomato sauce and bring mixture to a simmer. Allow to cook down slightly, about 5 minutes.



3.

Return goat meat to the sauce and pour in reserved marinade and beef stock. Bring to a boil, reduce heat to low, and simmer covered until goat meat is partially tender, 30 to 40 minutes. Stir in potato, carrots, and peas; season with salt, black pepper, goat curry powder and cayenne pepper. Simmer until goat meat is very tender and potato and carrots are cooked through, 20 to 30 more minutes. Adjust seasonings before serving.



4.

Serve with rice and Enjoy.