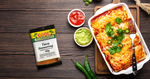 Servings: 5 servings | Prep time: 10 minutes | Cooking time: 30 minutes
Ingredients  




10 flour tortillas (6 inches)
1 can of cream of mushroom soup, divided
2-1/2 cups cubed cooked turkey
1-1/2 cups sour cream, divided
1-1/2 cups shredded cheddar cheese, divided
1/2 cup salsa
1/4 cup sliced ripe olives
1 small onion, chopped
3 teaspoons of Cool Runnings taco seasoning, divided
Shredded lettuce
Chopped tomatoes
Additional salsa and sliced ripe olives, optional
Directions


1. Preheat your oven to 350°, now in a large bowl, throw in the leftover turkey, 1/2 cup of sour cream, 1 1/2 teaspoons of taco seasoning a bowl, half the soup, 1 cup of cheese, onion, salsa and olives. 

2.  Place 1/3 cup of the filling on each tortilla. Roll up and place, seam side down, in a greased 13x9-in. baking dish. Combine remaining sour cream, taco seasoning and soup; and pour over the tortillas. Cover and bake at 350° for 30 minutes or until heated through.

3. Sprinkle with remaining cheese. Serve with shredded lettuce and chopped tomatoes. Top with additional salsa and sliced ripe olives.