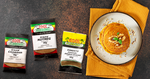 Servings: 10 servings | Prep time: 10 minutes | Cooking time: 10 minutes
Ingredients




2 cups all purpose flour

½ tsp salt

2 eggs

1 ½ cups buttermilk

3 tbsp cold water

1 cup pumpkin puree

½ stick unsalted butter melted



Directions


1. 

In a medium sized bowl, combine the flour, baking powder, baking soda, allspice, salt, cinnamon and nutmeg. Set aside.



2.

In another bowl, beat the eggs with a whisk until foamy. Slowly beat in the buttermilk, cold water and pumpkin puree. Put the bowl in the fridge until needed.



3. 

Add melted butter to the pumpkin mixture and then fold the dry ingredients into the pumpkin mixture, keep folding until the batter is smooth.



4. Over medium heat, let a lightly greased pan get hot. Drop the batter by scant 1/4 cup onto the pan and cook until the pancake is golden on the bottom and air pockets appear dry on top. Flip the pancakes over and cook one more minute until the underside is golden.

5. Serve hot with butter and syrup. Enjoy!