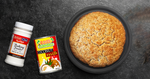 Servings: 8 servings | Prep time: 30 minutes | Cooking time: 20 minutes
Ingredients




Directions


1.

Sift flour with the baking powder; add salt. 

Rub in the margarine until fine.



2. Slowly add the coconut milk to make a smooth dough. Allow to rest for 30 minutes

3.

Shape in a ball and roll out to ¾"-1" thick round.



4.

Place on a greased baking sheet and bake in a hot oven for 20 minutes.



5. Serve hot. Split into halves and butter.