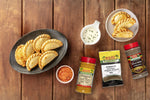 Serves: 16 servings | Prep time: 120 minutes 
Ingredients




8 oz ground beef
6 scallions, roughly chopped
2 17.3-oz packages puff pastry (4 sheets)
2 cloves garlic, roughly chopped
2 Tbsp vegetable oil
2 tsp fresh thyme leaves
1 large egg, beaten with a splash of water
1 Scotch Bonnet chile or Habanero, seeds removed and roughly chopped
½ green bell pepper, stemmed, seeded and roughly chopped
1 ½ tsp of Cool Runnings Jamaican style curry powder
salt and Cool Runnings ground black pepper
Barbecue sauce, chutney or ranch dressing, for serving



Directions


1. Start by preheating the oven to 400F. Take a baking sheet and line it with parchment paper.

2. Throw your thyme, scallions, garlic, scotch bonnet chile and bell peppers into a food processor and pulse it until it is finely chopped (make sure it is not smooth like a puree)

3. Take a large nonstick skillet and heat it over medium heat. Cook the beef, stirring occasionally, until slightly browned (about 2 minutes). Add the pepper mixture, curry powder and allspice to the pan and keep cooking until the beef is deeply browned (5 minutes).

4. Remove the pan from the heat and stir in the oil. Season the filling with salt and pepper to taste and let the filling cool completely.

5. Roll each sheet of puff pastry out until it is about 1/8 inch in thickness. Using a circular shaped cutter, stamp out 8 circular doughs from each sheet. Next Spoon 1 tablespoon of the beef mixture into the center of the puff pastry and brush the edges with the egg mixture. Place another piece of puff pastry onto the mixture and enclose the beef filling and use a fork along the edges to seal it well. Once done, transfer all the patties to the prepared baking sheets.

6. Brush the top of the pastry with the egg mixture. Put into oven and let bake until puffed and golden brown, about 25 - 30 minutes.

7. Serve with barbecue sauce, chutney or ranch dressing for dipping.