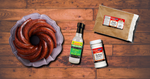 Serves: 12 servings | Prep time: 25 minutes| Bake + standing: 1 hr
Ingredients




Syrup
Directions


1. Preheat the oven to 325°. In a mixing bowl, put in the butter and sugar, and mix until it is light and fluffy. Next, add the eggs one at a time into the mixture and beat in the coconut extract.

2. In a small bowl, combine the rum and milk. In another bowl, whisk the flour, pudding mix, cornstarch, baking powder and salt; add this mixture to the creamed butter and sugar mixture alternately with the rum mixture, make sure to beat well after each addition.

3. Transfer the mixture into a greased and floured 10-in. fluted tube pan. Let bake for 1 hour, you can make sure the cake is ready by inserting a toothpick into center and it comes out clean. Let cool for 10 minutes. Remove from pan and transfer onto wire rack to cool.

4. For the syrup, heat up a small saucepan over medium heat, add in the  butter, water, sugar and salt. Bring the sauce to a boil, stirring constantly. Remove from heat and add rum and extract. (You can reduce the amount of rum you add based on your preference)

5. Finally take a small skewer and poke holes all over the cake. Pour the syrup over the cake until its all coated and absorbed. Cover the cake and let it stand overnight for maximum flavour!