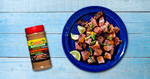 Servings: 6 servings | Prep time: 15 minutes | Cooking time: 6h
Ingredients  


 

3 pound boneless pork butt – trimmed of fat & cut into 2-inch chunks
2 tbsp. cooking oil – (canola or vegetable)
4 tbsp. of Cool Runnings jerk seasoning
1 bunch of green onion – (cut into 3-inch pieces)
3 cloves garlic – smashed & peeled
1-2 jalapeno or habanero peppers – stemmed & roughly chopped
½-inch fresh ginger – (peeled and sliced)
¾ cup fresh orange juice - (from about 4 oranges)
¼ cup fresh lime juice – (from about 2 limes)
1 tbsp. of British Class dark brown sugar
1. tbsp. low sodium-soy sauce


Directions


1. Prepare the pork by patting the cubes with paper towels. Transfer the pork into a large mixing bowl and drizzle the oil over it. Toss to coat evenly.

2. Sprinkle the pork with jerk seasoning, some salt to taste and mix well. Make sure it is evenly coated. Cover the bowl with plastic wrap or transfer to a large zip-lock bag and refrigerate for 3 hours or overnight. 

3. When you are ready to cook, remove the pork from the refrigerator and let the meat sit at room temperature for 30 minutes. Prepare the other ingredients while you wait. 

4. Transfer the pork into your slow cooker, add the onions, garlic, peppers, ginger, orange juice, lime juice, sugar and soy sauce. Let cook on low for 6-7 hours, until the pork is tender and falls apart easily.

5. Skim and discard the fat from the top of the cooking liquid in the slow cooker.  Strain the cooking liquid into a measuring cup or bowl. Save for later.

6. Transfer pork to a serving bowl and drizzle a bit of cooking liquid over the top. Enjoy hot!