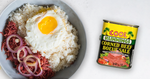 Servings: 4 servings | Prep time: 5 minutes | Cooking time: 10 minutes
Ingredients  


 

1 medium onion (sliced)
2 sprigs fresh thyme
1 medium ripe tomato (chopped)
2 stalks scallion (chopped)
1 scotch bonnet pepper (de-seed and chopped)
1 tablespoon vegetable oil or coconut oil


Directions


1. Heat oil in a frying pan over medium heat. Add onions, garlic, and scotch bonnet to frying pan. Sauté for 1 - 2 minutes. 

2. Add thyme and corned beef. Turn down the heat to a medium-low and stir  until the cooked. 

3. Add chopped tomatoes and scallions, stir well and cook for another 3 minutes. Use paper towels to absorb the extra oil. 

4. Serve with rice and enjoy!