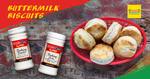 Ingredients




Directions


1.

Heat the oven to 425°F and arrange a rack in the middle. Line a baking sheet with parchment paper; set aside.



2.

Whisk the measured flour, baking powder, salt, and baking soda together in a large bowl to aerate and combine. Add the butter pieces and toss to just coat them in the flour mixture. Place the bowl in the freezer for 10 minutes.



3.

Using a pastry blender or 2 knives, and working quickly so as not to soften the butter, cut the butter into the dry ingredients until it's in pea-size pieces. Drizzle in the buttermilk and stir just until a moist, shaggy dough comes together.



4.

Generously dust a work surface with flour. Scrape the dough out onto the surface and dust the top with more flour. Using floured hands, gently pat the dough into a 1-inch-thick circle.



5.

Using a 2-1/2-inch round cutter dipped in flour, cut out as many biscuits as possible (press straight down through the dough—do not twist the cutter, or the biscuits will not rise properly).



6.

Transfer the biscuits to the prepared baking sheet, spacing them at least 1 inch apart. Gather the scraps into a ball, pat it into a 1-inch-thick circle, and cut out more biscuits. Repeat as needed until you have 8 total. Discard any remaining dough.



7.

Bake until the biscuits have risen and are golden brown on top, about 15 to 16 minutes.



8.

Transfer to a wire rack to cool slightly before serving.