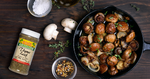 Serves: 6 servings | Prep time: 15 minutes | Cooking time: 15 minutes
Ingredients  




1/4 cup unsalted butter, melted
4 cloves garlic, minced
1 tablespoon freshly squeezed lemon juice, optional
1 teaspoon Cool Runnings dried thyme
1/2 teaspoon Cool Runnings dried rosemary
Kosher salt and freshly ground black pepper, to taste
3 pounds cremini mushrooms



Directions


1. Preheat oven to 375 degrees F. Lightly oil a baking sheet or coat with nonstick spray.

2. In a small bowl, whisk together butter, garlic, lemon juice, thyme and rosemary; season with salt and pepper, to taste.

3. Place mushrooms in a single layer onto the prepared baking sheet. Stir in butter mixture and gently toss to combine.

4. Place into oven and bake for 12-15 minutes, or until browned and tender, tossing occasionally.

5. Serve immediately.