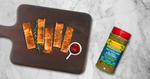 Serves: 6 servings | Prep time: 5 minutes | Cooking time: 10 minutes
Ingredients




6 slices of bread
1 tablespoon olive oil
1 tablespoon minced garlic
1 cup shredded mozzarella cheese
1/4 cup shredded Parmesan cheese
Pizza sauce



Directions


1. First preheat the oven to 450 C.

2. Start by cutting the edges of the bread off. Use a rolling pin to make the bread really flat.

3. Place some cheese in the middle of the bread and roll up the bread along with the cheese, making sure you roll it tight so that it resembles a stick. lay them out on a greased baking sheet.

4. In a small bowl, mix together the oil, minced garlic and garlic pepper and herbs seasoning. Brush the mixture onto the bread sticks.

5. Bake for 6 - 8 minutes or until cheese is melted. Serve with pizza sauce and enjoy!