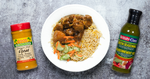 Servings: 6 servings | Prep time: 20 minutes | Cooking time: 2h 20 minutes
Ingredients




Directions


1.

In a clean bowl, season the goat meat with salt, black pepper, green seasoning, curry powder, bay leaves and onions. Mix well and refrigerate for 2 hours or overnight.



2. Remove the meat from the fridge up to 30 minutes before cooking. Separate the meat from the seasonings and set aside.

3. To a skillet add oil and heat up on medium heat for 1 minute. Add in the meat pieces and cover the pot for 5 minutes before stirring. Add the water to the bowl with the leftover seasoning and set aside.

4.

After 5 minutes stir the pot well and add in the water, thyme and scotch bonnet pepper and mix well. Cover the pot and simmer on low heat for 2 hours stirring occasionally.



5. After 2 hours if the water level is too low, add 1 more cup of water and adjust the salt and seasoning accordingly to preference. Add the chopped potatoes and simmer for a further 10 minutes on low heat.

6. When the potatoes are cooked, turn off the pot and rest for 10 minutes before serving.