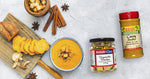 Serves: 4 servings | Prep time: 10 minutes | Cooking time: 60 minutes
Ingredients




Directions


1. Heat a large pot over medium heat, and let it get hot. Add in the oil, shallots and garlic. Add chopped onion and carrots. Sauté for 2 minutes, remember to stir frequently.  

2. Add the butternut squash and season it with some salt and pepper, curry powder and ground cinnamon.

3. Add the coconut milk, vegetable broth, maple syrup and chili garlic paste into the pot. Bring to a low boil over medium heat. Once boiled, reduce the heat to low, cover and let simmer for 15 minutes, until the butternut squash is fork tender.

4. Transfer the soup to a blender, or use an immersion blender, and puree until a creamy and smooth consistency. If using blender, return the soup back into the pot.

5. Continue cooking for a few more minutes over medium heat and adjust taste if you need more heat.

6. Serve as is, garnish with some chopped nuts and fresh cilantro.