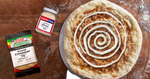 Servings: 8 servings | Prep Time: 20 minutes | Cooking Time: 20 minutes
Ingredients


For the Dough:
Buttery Cinnamon Sugar Spread: Cream Cheese Glaze:


Directions


1. Preheat the oven to 400 degrees . Prepare a 12 inch pizza sheet by lightly coating it with some cooking spray and set aside.

2. In a mixing bowl, mix water, sugar and the yeast together. Let it it sit for 5 minutes.

3. Add flour to the mixture, and mix until it is smooth. Let it sit and allow it to rise for 10 minutes.

4. Roll the dough out into a 12 inch circle and place it on the greased pizza pan. Let pizza rest for 10 minutes.

5. In another small bowl, combine the butter, brown sugar, oats, and cinnamon. Spread a thin layer on top of the pizza. Bake for 12 - 15 minutes or until the edges are light brown. 

6. While the pizza is in the oven, prepare the glaze by beating together the butter and cream cheese. Add powdered sugar and vanilla until it is combined. You can put the mixture in the microwave to soften it up if you think it is too thick. Drizzle it on top of the pizza when it is ready and serve!