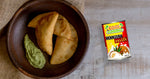 Servings: 18 servings | Prep Time: 20 minutes | Cooking Time: 50 minutes
Ingredients


For the Empanada Dough:
For the Corn Filling:

1 1/4 cup of fresh corn, removed from cob
1 yellow onion
1/4 cup roasted red peppers, finely diced
1 cup of Cool Runnings coconut milk
1/2 tsp of salt
Black pepper, to taste



Directions


1. In a large mixing bowl, combine the flour and salt and mix well.

2. Add the cannellini beans and 3/4 cups of the coconut milk to a blender and blend for 60 - 90 seconds until the beans have broken down and you have a smooth liquid.

3. Pour the liquid mixture into the bowl with the flour mixture and "cut" the liquid into the mixture using knives. Knead the dough with your hands until all the flour has been incorporated. If you find the dough to be a bit too dry, you can add 1 tbsp. increments of water until the dough becomes soft and slightly sticky. 

4. Cut the dough in half and place them between two sheets of parchment paper. Roll them out to be about 1/8" thin. Place the pieces into the fridge and let chill while you prepare the corn filling.

5. For the corn filling, add a splash of water to a medium pot and bring to a medium heat. Once warm, add in the diced yellow onions and let cook until it becomes translucent. Next, add in the roasted red peppers, corn, and some salt and pepper. Pour 1 cup of coconut milk over the mixture and bring to a boil. Let simmer for 15 - 20 minutes so the mixture can thicken. Remove from the heat and let cool for a few minutes. 

6. Preheat your oven to 350F. Remove the empanada dough from the fridge and roll it out one more time to ensure it is nice and thin. 

7.  Use a round cookie cutter or rim from a glass to cute the dough into circular shapes. You should be able to make around 18. 

8. To fill each empanada, spread the dough out with your fingers, then place about 1-2 tbsp. of corn filling into the center of the dough. Use your fingers to punch the dough closed, into a half moon shape. Seal the ends as desired, you can use a fork or your own folding technique. Do this with all your round dough pieces.

9. Place the empanadas on a lined baking sheet and lightly brush each one with some milk or egg whites, this will make them golden on the outside. Let bake for 30 - 35 minutes at 350F, or until golden. Serve while hot!