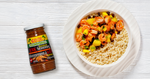 Serves: 4 servings | Prep time: 20 minutes 
Ingredients




1 medium ripe avocado, peeled and pitted
1/3 cup reduced-fat sour cream
1/4 teaspoon salt
1 can (15 ounces) black beans, rinsed and drained
1 can (8 ounces) unsweetened crushed pineapple, undrained
1 medium mango, peeled and cubed
1/2 cup salsa
1 package (8.8 ounces) ready-to-serve brown rice
1 pound uncooked shrimp (31-40 per pound), peeled and deveined
1 teaspoon Cool Runnings jerk seasoning
1 tablespoon canola oil
2 green onions, sliced
Lime wedges, optional



Directions


1. To make the avocado cream, mash your peeled and pitted avocado with sour cream and salt until smooth.

2. Now in a saucepan, combine the beans, pineapple, mango and salsa and let heat through, stirring occasionally. Prepare rice according to package directions

3. Toss the shrimp in Cool Runnings jerk seasoning sauce (hot or mild, based on preference). Heat up oil in a large skillet over medium-high heat. Add the shrimp; cook and stir for 2 -3 minutes.

4. Divide the rice and beans mixture into four bowls, and top off with the jerk shrimp, green onions and service with avocado cream.