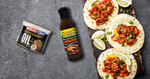 Ingredients


Salsa:


1 red onion, diced

2 roma tomatoes, diced

6 sprigs of cilantro, finely shredded

1/4 tsp salt

Shrimp:




1/2 red onion, diced
1lb shrimp, raw, cleaned and deveined

Assembly:




6 yellow corn tortillas, toasted

2 sprigs of cilantro, finely shredded
2 tbsp Cotija cheese, crumbled



Directions


1. 

In a small bowl, mix all salsa ingredients. Put aside.



2. 

Heat up pan over medium heat and melt coconut oil. Add ½ onion and cook until translucent.



3. 

Add shrimp and continuously stir until the shrimp starts turning red, about 3 minutes.



4.

Turn heat to high, add 

Cool Runnings blackened Cajun sauce

 and stir until shrimp is fully cooked, about 3 minutes.



5.

Only assemble the tacos when you are ready to serve. If the salsa sits on the tortillas for too long they will become soggy.



6.

To assemble the tacos, place the tortillas over the serving plate. Add salsa, shrimp, crumbled cheese and top it with cilantro.