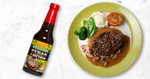 Serves: 4 |  Preparation time: 5 minutes |  Cooking time: 15 minutes
Ingredients




225 gram boneless ribeye steaks

2 tablespoons of olive oil

1 large onion sliced

2 large garlic cloves, minced

200 grams brown mushrooms sliced

3 tablespoons of unsalted butter

3 tablespoons of plain flour

2 cups of beef broth

4 teaspoons of

 

Cool Runnings steak sauce

1 carrot sliced

Salt and

 

Cool Runnings ground black pepper

, to season



Directions


1.

Pat steaks dry with paper towel. Season with salt and pepper to your taste.



2.

Heat a lightly oiled skillet or pan on high heat until just beginning to smoke. Cook steaks for 3 minutes each side or until cooked to your liking. Rest for 5 minutes.



3.

Heat remaining oil in the skillet. Add onion and cook for 2-3 minutes until onions are translucent, then add the garlic and cook for a further 30 seconds, or until fragrant.



4.

Add the sliced mushrooms and carrot into the skillet and cook for 3 minutes until golden and beginning to soften.



5. 

Reduce heat to medium and melt butter in the skillet. Add flour and cook while stirring for 1 minute, allowing the flour to brown slightly.



6.

Slowly and gradually add in the beef broth, while stirring. Allow to simmer for 4-5 minutes, or until thickened. Stir in the Cool Runnings Steak Sauce and season with salt and pepper to taste.



7.

Add the steaks back into the gravy in the pan along with the juices on the plate or serve steaks with the onion mushroom gravy on the side.



8.

Garnish with chopped thyme, parsley or rosemary if desired.



9. Enjoy.