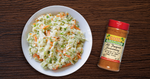 Ingredients




½ cabbage, finely sliced (red, white or mixed)

2 large carrots, cleaned and grated

1 ½ cups mayonnaise

1-2 tbsp apple cider vinegar (add more if you prefer a zestier flavour)

3 stalks green onion, finely chopped

¼ cup cilantro, chopped

½ cup sultana raisins (optional)



Directions


1.

In a small bowl, combine mayonnaise, 

Cool Runnings All Purpose Seasoning,

 and apple cider vinegar. Mix until uniform.



2.

In a large salad bowl, toss cabbage, carrots, green onions, cilantro, and raisins.



3. 

Add the mayonnaise mixture in the bowl and keep tossing until all vegetables are evenly covered with mayonnaise mixture.



4.

Cover and refrigerate for at least one hour before serving.



5. Enjoy.