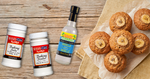 Serves: 12 cupcakes |  Preparation time: 15 minutes |  Cooking time: 25 minutes
Ingredients




1 cup mashed ripe bananas (about 2-3 bananas)
1/2 cup unsalted butter, at room temperature
1 and 1/2 cups all-purpose flour
1/2 tsp British Class baking soda
1/4 tsp salt
1 cup granulated sugar
2 large eggs, at room temperature
1/4 cup buttermilk



Directions


1. Preheat your oven to 350°F (180°C). Line a 12-cup muffin tin with paper liners.

2. In a medium bowl, whisk together the flour, baking powder, baking soda, and salt.

3. In a large mixing bowl, cream the butter and sugar together until light and fluffy, about 2-3 minutes.

4. Add the eggs, one at a time, mixing well after each addition. Add the vanilla extract and mashed bananas, and mix until combined.

5. Gradually add the dry ingredients to the wet ingredients, alternating with the buttermilk. Begin and end with the dry ingredients, mixing until just combined after each addition.

6. Fill the muffin cups about 3/4 full with batter.

7. Bake for 20-25 minutes or until a toothpick inserted in the center comes out clean.

8. Let the cupcakes cool in the pan for a few minutes before removing them to a wire rack to cool completely.