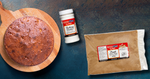 Ingredients  




2 tbsp. margarine
3 tbsp. flour
1 cup raisins
1½ cups flour
2 tsp. British Class baking powder
½ cup or 4 oz. margarine
½ cup granulated sugar
2 large eggs or 3 small ones
¼ cup rum
1 tbsp. milk
1 tbsp. water


Directions


1. Melt 2 tablespoons of margarine and remove from heat. Add brown sugar, 3 tablespoons flour and raisins; stir well and set aside.

2. Combine 1½ cups flour and baking powder.

3. Cream margarine with sugar until fluffy. beat in eggs one at a time. 

4.Fold flour alternately with rum and milk into a creamed mixture. 

Pour ½ batter into a greased wax-lined 7' or 8" round pan.




5. Sprinkle raisin filling, reserving 3 tablespoons for top of cake. Pour remaining batter and sprinkle remaining raisin mixture.

6. Bake at 350°F for 40-45 minutes or until the cake springs back when touched.

7. Cool in pan for 10 minutes; invert and remove paper. 

8. Blend icing sugar and water and drizzle over the cake. Serve and enjoy!