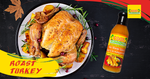 Serves: 8 |  Preparation time: 15 minutes | Active time: 3 hours
Ingredients




Directions


1.

Preheat oven to 325°F.



2.

Remove neck and giblets and save it for gravy. Wash and pat turkey dry with paper towels.



3.

Brush turkey with oil under and over the skin. Season with salt and pepper. Stuff lemons inside the cavity.



4.

Fill a large roasting pan with the broth and place the turkey. Cover with aluminum foil and bake for 2 hours.



5. 

Remove cover, brush the turkey with 

Cool Runnings Hot Mango Sauce

 and roast for another hour, applying more sauce every 15 minutes.



5.

Remove turkey from the oven once the thermometer reads 180°F.



5.

Let it sit for at least 20 minutes before carving. 



5.

Discard lemons from the cavity.



5. Enjoy.