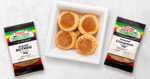 Serves: 12-15 mini tarts | Prep time: 30 minutes | Cooking time: 20 minutes
Ingredients  




Directions


1. Preheat the oven to 350°F (175°C). Line a baking sheet with parchment paper.

2. In a large mixing bowl, combine the flour, butter, sugar, egg yolk, salt, and vanilla extract. Mix until a dough forms.

3. In a separate bowl, combine the diced pineapple, sugar, cinnamon, and nutmeg.

4.

Roll the dough into small balls and press them into the bottom and up sides of a mini tart pan.



5. Spoon the pineapple mixture into the center of each tart.

6. Brush the beaten egg white over the edges of the tarts.

7. Bake the tarts for 18-20 minutes or until the edges are golden brown. Allow the tarts to cool before serving.