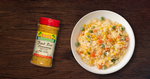 Serves: 4 | Preparation time: 10 minutes | Cooking time: 15 minutes
Ingredients




Directions


1.

In a large skillet, heat oil over medium heat. Add the beaten eggs and scramble until set. Remove the eggs from the skillet and set aside.



2. In the same skillet, add the diced onions and minced garlic. Cook until the onions are translucent, about 3-5 minutes.

3. Add the frozen peas and carrots to the skillet and cook until they are heated through, about 3-5 minutes.

4. Add the cooked rice to the skillet and mix well with the vegetables.

5. Stir in the fried rice seasoning and soy sauce, and cook for an additional 2-3 minutes.

6. Stir in the scrambled eggs and green onions, and cook for an additional minute. 

7. Season with salt and pepper to taste, and serve hot.