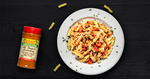 Ingredients




4 cups rotini pasta (cooked)

1/4 cup green onion (chopped)

1/4 cup carrots (finely julienned)

1/4 cup cilantro (chopped)

1 cup mayonnaise



Directions


1.

In a bowl toss together the pasta, green onions, carrots, cilantro, all purpose seasoning and mayonnaise.



2. Chill in the fridge for 30 minutes before serving.