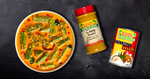 Servings: 6 servings | Prep time: 15 minutes | Cooking time: 15 minutes
Ingredients  


 



Directions


1. Place okra in a colander and rinse under cold running water. Prepare Okra by cutting off the stems and set aside.

2. Heat oil in a large saucepan over medium heat. Add onion, garlic, ginger, thyme and cook until the onions are softened (about 2 minutes).

3. Stir in tomato and cook for one minute. Add curry powder, allspice, scotch bonnet pepper, and stir. Let cook for another minute. 

4. Next, add in the okra and stir well to coat it with the seasoning.


5. Stir in the coconut milk, water, and add some salt to taste. Bring the curry to a boil. Let the okra cook for another 10 minutes, until it is tender. 

6. Check the seasoning, add salt if needed. Serve hot with rice or quinoa.