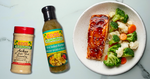 Serves: 4 |  Preparation time: 10 minutes | Cooking time: 20 minutes
Ingredients




Directions


1.

In a small bowl, mix the maple syrup, Cool Runnings Fish & Seafood Marinade, garlic, Cool Runnings Ackee & Salt Fish Seasoning, Granulated Onion Powder and Ground Black Pepper.



2.

Place salmon in a shallow glass baking dish, and coat with the maple syrup mixture. Cover the dish, and marinate salmon in the refrigerator for 30 minutes, turning once.



3.

Preheat oven to 400 degrees F (200 degrees C).



4.

Place the baking dish in the preheated oven, and bake the salmon uncovered for 20 minutes or until easily flaked with a fork.



5.

Remove from oven, serve with your favourite side dishes and enjoy.