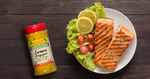 Serves: 2 | Preparation time: 8 minutes | Cooking time: 12 minutes
Ingredients




Directions


1.

Place a paper towel on a plate and put the fillet skin side down on the towel. Place another sheet of paper on the top of the fillet and lightly press down with your hands to remove excess moisture.



2.

Coat a good layer of cooking oil/spray on a large cast iron pan and place your salmon fillet  with the skin-side down. Season the flesh-side with some 

Cool Running's Lemon Pepper

 seasoning and some salt to taste. Place a thin wedge of fresh lemon on top of your fillets.



3.

Put the pan into the over and bake it at 400ºF for 12 - 14 minutes. The salmon should be firmed up and easy to flake.



4.

Squeeze some fresh lemon juice on your salmon.



5. Enjoy.