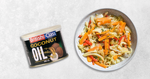 Servings: 4 servings | Prep time: 5 minutes | Cooking time: 15 minutes
Ingredients  


 

1 tbsp of British Class coconut oil
1 small onion peeled and finely chopped
1/2 tsp garlic purée
1/2 cabbage shredded
1 bell pepper sliced
1 large carrot julienned
1/4 cup (60ml) vegetable broth
scotch bonnet to taste (optional)
4 springs thyme
salt to taste

 
Directions


1. Heat coconut oil in a pot. Add the onion and thyme and cook for about 5-7 minutes till softened.

2. Stir in the garlic puree, and then the cabbage, bell pepper, carrot, scotch bonnet (optional), vegetable broth and salt. 

3. Mix well and cover the pot. Reduce and steam for 10 - 15 minutes or until done to your preference, remember to stir occasionally during the process. Make sure to keep and eye on the liquid, if it looks like it is starting to dry out, add another tbsp of broth. 

4. Remove from pot and serve!