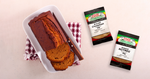 Ingredients  


 

 
Directions


1. Heat your oven to 350°F. Grease 2 loaf pans that are 8x4 inches with some cooking spray and set aside.

2. Take a mixing bowl, beat the brown sugar and butter on medium speed until it is combined and fluffy, add in the eggs next and keep beating. 

3. In a small bowl, mix the molasses and water together by stirring well, add this into brown sugar mixture and beat well.

4. Take a large bowl and blend the flour with the baking soda, powder and all the spices. Once mixed well, gradually add the dry ingredient into the mixing bowl with the wet ingredient and beat until it is well blended. 

5. Spoon the batter evenly into the baking pans and bake for about 30 - 40 minutes. You should be able to poke a toothpick through the center and it should come out clean. 

6. Let the pans cool on a cooling rack for 15 minutes; remove from pans. Serve warm and top off with some ice cream or cool whip.