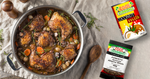 Ingredients





Directions


1. 

Wash the chicken with lemon juice, and drain well. In a large mixing bowl, add the tomato, scallion, onion, garlic, pepper, thyme, pimento, soy sauce, browning and the chicken pieces. Mix well, ensuring an even coating, cover the bowl and let marinate for one hour.



2. 

When ready, heat up some coconut oil in a large pan. Shake off the marinade as you place each chicken onto the pan. Save the marinade for the sauce later.



3.

Turn up the heat and lightly brown each chicken piece. Set aside the browned chicken pieces on a plate while you finish cooking the rest of the chicken.



4. 

Drain the excess oil and return the chicken to the pan, pour the leftover marinade over the chicken and add the carrots. Turn the heat to a medium, stir and cook the chicken and carrots for 10 minutes.


5.

Mix the coconut milk and flour in a bowl and add it to the stew, stirring constantly.



6.

 Reduce the heat and cook for another 20 minutes until the chicken is tender. Serve with rice and peas, and enjoy!