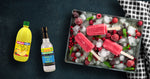 Serves: 6 servings | Prep time: 5 minutes | Freezing time: 8 hours
Ingredients




Directions


1. Add all ingredients into your blender and blend for 50 - 70 seconds or until the mixture is smooth.

2. Evenly distribute the mixture into the popsicle mold. Secure the popsicle molds with sticks and place it in the freezer. Let the popsicles freeze for 8 hours overnight.

3. When you are ready to serve, remove the molds from the freezer and run it under hot water for 30 seconds to loosen the popsicles.