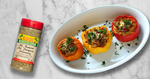 Serves: 6 servings | Prep time: 20 minutes | Cooking time: 30 minutes
Ingredients




6 large bell peppers, any color
2 cups wild rice, cooked
1 lb. 93% Lean ground turkey
2 cloves garlic, minced
1 small onion, diced
1 16 oz. jar crushed tomatoes
1 teaspoon salt
1/2 teaspoon pepper
1 1/2 cups sharp cheddar cheese, shredded
1 tablespoon olive oil



Directions


1. Preheat oven to 350 degrees. Prepare your rice and set aside. You will need two cups of cooked rice.

2. Cut off the tops of the peppers remove the seeds, trim the bottoms to help them sit flat in the skillet and rinse thoroughly. In a large pan boil the peppers for 5 minutes, remove from water and turn upside down onto a paper towel to dry.

3. In a large skillet add the olive oil, garlic and onion, saute until tender. Add the turkey and brown until thoroughly cooked.

4. Add the crushed tomatoes, rice, all natural all purpose seasoning, salt, pepper and 1/2 cup of the shredded cheese and stir until blended.

5. Fill the peppers evenly with the mixture, place in a lightly greased 10 inch cast iron skillet, or baking dish of your choice. Bake uncovered for 25 to 30 minutes. Remove and add the remaining cheese to the top of peppers and bake for an additional 5 minutes or until the cheese is melted.