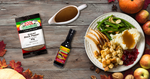 Ingredients




Directions


1.

Measure 2 cups of boiled water and place 2 Cool Runnings Bouillon Cubes of your choice in to dissolve.



2. On medium low heat, melt butter and sauté onions until clear about 30-45 seconds. Stir in Cool Runnings Black Pepper Ground and All Purpose Flour. Stir roux for about 1 minute until it bubbles.

3. Add the water with the bouillon cubes that have been dissolving and stir the gravy until it thickens (about 1 minute).

4. Add Cool Runnings Gravy Browning to give your gravy a darkened gourmet colour. Stir well and cook for 1-2 more minutes until desired thickness.