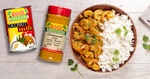 Ingredients




Directions


1.

Heat a pan on medium to medium low and add the 

British Class Coconut Oil

. When oil is hot, sauté the garlic & green onion until slightly brown then add 

Cool Runnings Jamaican Style Curry Powder

, 

Cool Runnings Coconut Milk

, cilantro, 

British Class Chicken Bouillon

, 

Cool Runnings Coconut Water

, chicken broth, and scotch bonnet pepper.



2. 

Cook the sauce on medium to medium low heat for about 5-8 minutes, stirring constantly until it bubbles and reduces to a nice gravy-like consistency.



3.

Add the shrimp and cook for 1-2 minutes until the shrimp is cooked. The shrimp should turn slightly pink and curl up.



4.

Serve with rice and enjoy!